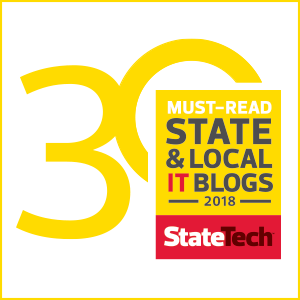 In the past month, I've had a couple of nice mentions of the work I do. I thought I'd share them!
StateTech named me one of their "30 Must-Read State and Local IT Blogs 2018." That's pretty cool! I'm the only individual librarian  blogger mentioned. TechSoup for Libraries also made the list (you're following them, right?). Definitely check out the other blogs mentioned – there are some great thinkers and ideas to be found in that list!
Callminer.com just shared a slide deck of mine in their "50 Must-See Customer Engagement Presentations." Very cool to have my slides mentioned on the same page as Ogilvy, Microsoft, ad:tech, and Salesforce! In this case, it's a presentation from 5 years ago. So a good example of older online content still being useful to someone! And an aside – I do seminars on customer engagement in libraries. Let me know if you want me to come speak at your library/association/conference!
So – fun stuff for me! Click through the links and see if you find a new blog to follow (I'll guess you will!).