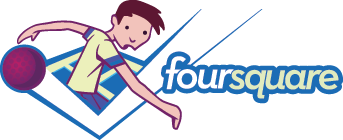 This is a follow-up post to my original post, Foursquare and Libraries – Anything There?
Lots of you left some great ideas in the comments, so I thought I'd do a little copy/paste and highlight some of them … because they're really very cool ideas!
So – here are what some of YOU are doing with Foursquare:
Colleen Greene: Pollak Library (at Cal State Fullerton) is using it in beta mode, adding in a bunch of To Do items and Tips for students (i.e., get a Titan Card, set up their borrowing privileges, check their circulation record, use one of our AV or Group study rooms, visit the latest exhibit, etc.). our Social Media Team is exploring the idea of prizes. I am also teaching our campus social media working group how to use it and incorporate it into a campus culture.
Jason Clark: Saw this in a tweet from NYPL which talks about the kernel of an idea – summer reading meets foursquare . A friendly reading competition in the mobile space? Job description provides some more detail. While this isn't true foursquare integration, it points to how foursquare could lead to/inspire new library apps and services.
Brad Czerniak: Canton Public Library offers a weekly prize to their Mayor. Just a concept. This week it's a #totebag http://twitpic.com/ynn7x
libmario: Harvard and UNC recently teamed up with Foursquare to encourage social engagement with the campus community ,including faculty. Innovative way to encourage learning and connections that could be extended to libraries. – http://mashable.com/2010/01/12/harvard-foursquare/
And one interesting sidenote. Sometimes, people can be a bit negative about our libraries while adding tips to Foursquare. For example, Stephen Francoeur said "Saddened to see that one tag already added to my library: shitty wifi. Hope to find a way to turn that perception around."
We've had one of those, too. Jason D. added this To Do list item to my library's entry: "Late fees are being enforced, so to help you remember to take your books in, sign up for email reminders via tscpl.org." Not sure that's really a negative comment, but it makes us sound a bit like "enforcers of the evil late fee" or something…
Anyway, yet another use for Foursquare – see what customers say about you in the Tips and To Do lists sections (then see if you can improve or fix those things).
Feel free to friend me in Foursquare!