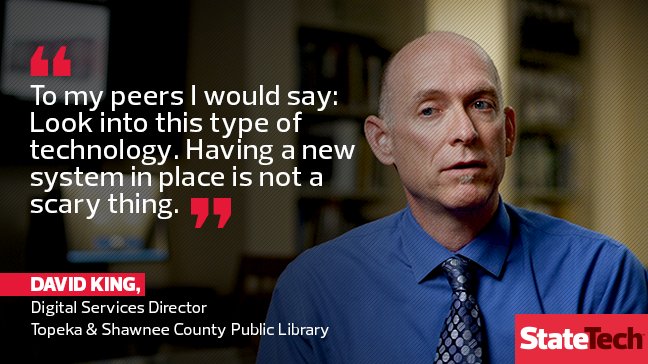 My library was recently featured in StateTech magazine. We recently upgraded our data center to a Nutanix hyperconverged infrastructure (click the links to read more about that). It's pretty cool, and is already saving my IT staff time, and has killed a bottleneck we were having on the back-end. So yay for that!
What did StateTech magazine do? Two things – an article and a video:
Video – It's on this page. It's not really embeddable, even though it has an embed code I can use. It was looking for evil flash … , so click through and watch it. If for nothing else than to see a really nice-looking video! They sent a video team out to do it, complete with producers. There were multiple takes. They dabbed makeup on my head. You should watch it 🙂
So why did we decide to be featured in a vendor's trade magazine? Because it's good publicity for us locally – it shows that the library is being responsible and is moving forward with technology, which our community wants us to do (they have shared that before).
And it's one little way that we can help the larger library community. By sharing what we do in a tech trade magazine that usually features city and state government IT projects, I think it helps give readers (i.e., those IT people that municipal libraries often deal with) an understanding of what THEIR local libraries should be doing. It's a way to get city IT staff on the library's side when it comes to budget time and technology upgrades.
If for no other reason than they might have read about it somewhere…