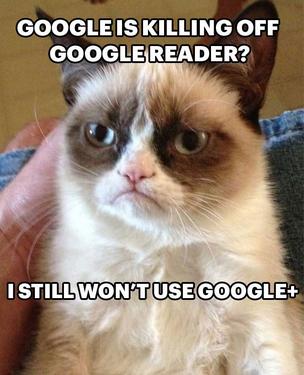 Google just announced the demise of Google Reader – a tool I use to read RSS feeds with, and am in pretty much every single day. That's probably how many of you guys read my blog, too – darn that Google!
But never fear – Stephen Abram is here to help! He has gathered some relevant stories, blog posts, and alternatives together, so you and I don't have to - go read his post. Looks like I'll be checking out Feedly, NewsBlur, and The Old Reader for sure.
Here are some other ideas for subscribing to my blog and others:
Get a new feed reader (see above).

Subscribe with email – great if you don't subscribe to too many blogs and news sites.
Subscribe with Twitter or Facebook. Many blogs and news sites (mine included) post a link to Twitter when a new article is posted. Sort those into a "geek library" list, then go visit it once a day or once a week. Problem solved!
Other options? Let me know in the comments. And – thank you for reading! You're awesome!
Pic found at Silicon Valley Business Journal