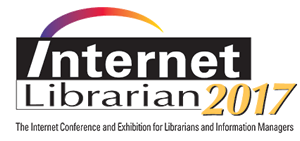 And what I heard on Day 3 of Internet Librarian 2017. There's one pore post coming up – links to my presentations. Hope you have enjoyed this brief little glimmer into what happens at Internet Librarian!
I moderated a track focused on innovation and learning. Lisa Carlucci Thomas (@lisacarlucci) was up first, talking about Creating a Culture of Innovation.
Lisa works at the Center for Social Innovation. She was brought on as a product developer, had to quickly hire a bunch of people for the project.
Moved from original development to using Adobe Captivate to create their interactive learning modules. Found out Captivate could not meet their accessibility requirements.
Using LibGuides for other non-library projects. Cool!
Also making some mobile-first products. So, lots of web development work.
Innovative things they have tried that have helped their team be more productive:
The CEO decided to make all meetings short – no more than 15 minutes. That sense of efficiency helped them work in different and better ways.

Jira – a Kanban board. It helps with issue tracking and helped them streamline their process.

Slack – it bombed with her team when it was first introduced. Second try it worked better. Lisa added some channels focused on their products, etc.

Also use Asana, Coggle – a mind map product (https://coggle.it). Boards – a storyboarding product, and Zepplin.
I spoke next – yes, I moderated myself 🙂
Kim Huntley and Heather Mathis talked about changing models/roles: competencies & professional development insights.
They had a changing service environment in the Toronto area… they had a real need for training.
They did a lot of telephone interviews to find out what their community wanted. They noticed a lot of similarities in things their customers wanted to be changed.
For staff, did a time on task study. That helped them figure out what their staff focuses on, what they spend time on. Surveyed 100 public services librarians.
They started a new professional development program. Librarians complete 6 learning activities each year, and have to talk to their supervisor about it.
Some innovative things they are doing include:
Community librarians (embedded idea): 

Work on site at partner agencies like correctional services, community and family centers, etc.

Book a librarian service – 3200 sessions booked in 2016. 30-60 minute appointments with a librarian for assistance on research, technology, etc.
Learning catalyst – support self-directed continuous learning – teaching and learning styles, service animator, tech, evaluation, curriculum development…

Ex – digital innovation hubs. Have staff who help people with different types of tech.
Ex – pop-up learning labs. Mobile stuff – iMacs, coding kits, 3D printers, etc – they move it from branch to branch for a month. Comes with a staff member! They lead classes, help everyone figure out the stuff, etc.
Ex – after school youth hubs – homework help, food, big social elements. Equipment there too. DJ equipment – stuff that engages kids in learning.

Culture Creator – connecting people through cultural activities. Space animator – being able to animate spaces.

Ex – dance – classes, etc then performance – might do that for a period of time
Ex – poetry saved our lives program – spoken word. Learn how you create it, then compete. Big local names help out with this. 600 kids participated!

They call their roles space and service animators – love that idea! It's a way to help staff understand they need to be active in those spaces. For example if they work in the makerspace, they should be actively making something. That way, interested patrons can ask what they are doing, which helps draw people into using the space.
Community activator – respond to unique community needs

Ex – welcome to the library event – for syrian refugees. An evening of music and information. Helped welcome them to their new home, and feel welcome in Canada.
Technology integrates into all these roles.
Last session – at the top of google search results – Trey Gordner, Corinne Hill, John Andrews
Trey: what is SEO, what is paid search, what are google ad grants?
Started out by explaining what organic and paid search is in Google.
This session was basically how to start using
https://www.google.com/grants/ for nonprofits in a library setting. It's free for nonprofits, and there's a way to get a public library (usually a government entity) into the program.
Do people actually click on ads? Yes, 5-15% of the time. Especially on mobile. Especially for products and services. This is trending up because Google wants you to click on the ads.
The Google Ad Grant program gives you:
$10,000 a month in ads

250,000 views

10,000 clicks
They shared some great results, including:
Ad for free ebooks for your Kindle from the library. Got 1500 views a month, 9% click through rate. Also a Spanish ad for ESL classes – 100+ views a month, 9% click through rate
Passport processing agency ad (Chattanooga does this) – 1500 views a month, 75-100 clicks a month
Resume help – 1500 views per month, 33% increase in use of their resume help service after 1 month
They also use LibraryAware as a book list site and create ads for those curated lists. Cool!