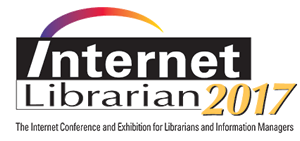 Here are some highlights from Day 2 at Internet Librarian 2017.
Amy Affelt (@aainfopro on Twitter) spoke about Internet Search Tips & Tricks
Her tips mainly revolved around making your activity on the web a bit more private. Some of her tips included:
Using https://panopticlick.eff.org/ from the Electronic Frontier Foundation to see how well your web browser and add-ons protect you against online tracking techniques.
Use web browsers in their private browsing mode (i.e., Chrome's Incognito mode).
Use Duck Duck Go instead of Google search, but start the search with a ! at the beginning of the search. That makes Duck Duck GO search Google, but using Duck Duck Go's features.
Use a VPN
Use ad blockers and traffic blockers
Potential border crossing smartphone handovers, asking to look at your social media accounts. Take a burner phone instead.
Bobbi Newman was up next. Some highlights from her talk included:
She defined what privacy in an online world means:
Information collection – all that data
Processing of that information and data
Dissemination of that data, i.e, in order to use it or sell it
All of this is an invasion of privacy
Bobbi mentioned that if you are tech-savvy or more well-to-do, you have a better chance at privacy. [edit by DLK – thanks Jill for pointing that out!] Minorities and the poor are subjected to more unwarranted surveillance.
The last session I attended was Frank Cervone explaining Blockchain.
It was very helpful! Some highlights:
Blockchain is a network where transactions can be validated in a secure environment
And they are validated forever
It uses peer-to-peer technology (Tor networks and BitTorrent are other peer-to-peer systems) – supposedly there's no single point of failure this way.
Bitcoin was originally designed around cryptocurrency (i.e., BitCoin)
It helps to embed trust rules inside each transaction, instead of doing that outside the transaction
There are some companies/projects starting to build blockchain-enabled apps. Etherium and OpenChain are two examples.
Problems with Blockchain – the chain grows as more transactions are added, and can eventually become unsustainable. It can also take more networking power to process, especially when those chains get longer.